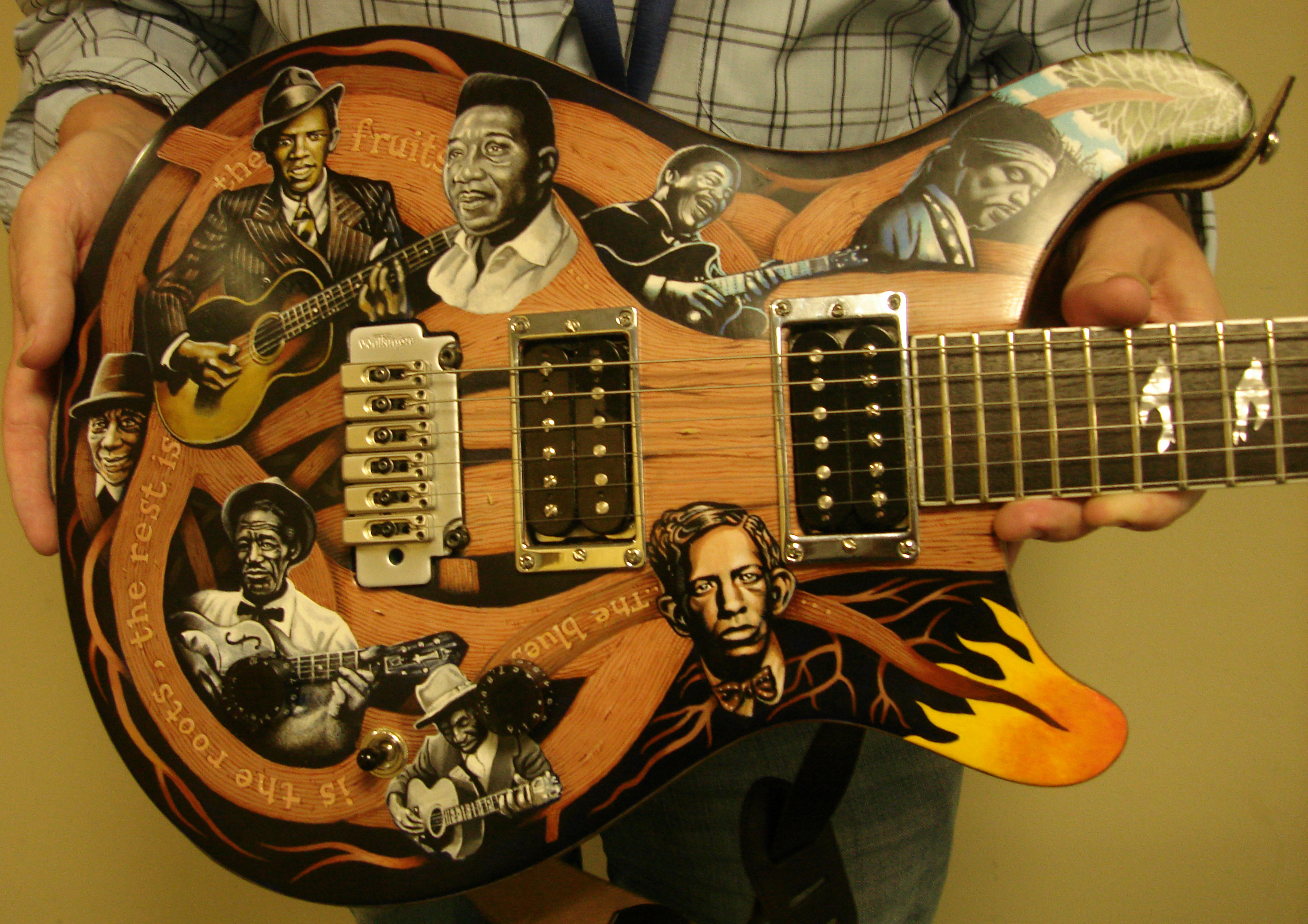 WORKSHOPS - Blues Week 2023
Blues Week 2023
30th July to 4th August 2023
Hartpury College, Gloucester GL19 3BE
The Programme
Blues Week 2023 provides an opportunity for blues enthusiasts to come together for a full week of music making. It is a chance to broaden your skills and knowledge in a comfortable, relaxed atmosphere. The programme will offer morning and afternoon workshops and classes for all levels. The beginners class is for those who have little or no knowledge of their instrument. The intermediate and advanced classes are for those who already play to varying degrees of proficiency and are ready to learn new tunes, techniques and styles. The evening activities throughout the week will consist of a concert by the staff members, a student concert and nightly jam sessions.

The Classes
Arrival is Sunday and check-in is at 3 o'clock. Dinner will be provided at 5pm and there will be an orientation session at 7:30. Classes will begin on Monday morning and run through Friday afternoon. There will be 2 sessions (one for beginner/intermediate and the other for intermediate/advanced) in the morning beginning at 9:30 and lasting until 10:45. There is a 20 minute break between each class and the second session will start at 11:05 and end at 12:20. Lunch is from 12:30 to 2:00. In the afternoon, the first class will start at 2:15 and end at 3:30. The second afternoon session will commence at 3:50 and end at 5:05. All classes and workshops during the week will last for one hour and fifteen minutes. The program will include Friday night accommodation and check out is 10am Saturday morning.

The Staff
TOM FELDMANN, Country Blues Guitar
Tom Feldmann taught himself to play guitar and has become a master of many styles in the acoustic blues tradition.
Beginner/Intermediate Country Blues Guitar 
In this session, the class will be working through songs that will help students to develop the skill and master the technique of playing fingerstyle while keeping a steady bass and playing the melody.
Intermediate/Advanced Country Blues Guitar - Repertoire
In the advanced class, Tom will be working through songs by Charley Patton, Robert Johnson, Blind Boy Fuller, Rev Gary Davis, and Skip James, just to name a few.
Intermediate/Advanced Country Blues Guitar - Navigating the Fretboard
This session will be focused on working with the CAGED system. The aim is to help you understand how to create new arrangements, build solos, improvise, and play freely up and down the neck.

SONNY BLACK, Country Blues and Bottleneck Slide Guitar
Sonny Black perform a blend of roots music that includes fingerstyle blues, ragtime, old time country and original compositions.
Country Blues Guitar (beginner/intermediate)
Sonny will be teaching 2 guitar sessions each day. In one, he will teach versions of Scrapper Blackwell/Leroy Carr's 'Midnight Hour Blues', Sam Chapman's 'St. Louis Blues'and a version of Amos Johnson Rag (by Sam McGee) as well as blues in 'drop D' tuning. Sonny's other class will be a time for him to sit one-to-one or a small group of guitarists  who might want some specific help with their playing such as backing up a singer or another guitarist with single string fills, chording and solo ideas and maybe some simple flatpicking.

Bottleneck Slide Guitar (beginner/intermediate)
Sonny will teach Tampa Red's 'Guitar Rag' and 'Things 'Bout Comin' My Way' as well as some general hints and tips on slide guitar (such as playing slide in standard and open minor tunings).

ABI BUDGEN, Country Blues Guitar
Abi has been studying and playing country blues for over twenty years. She is passionate and always available to help students to improve on their guitar skills.
Beginner Country Blues Guitar (beginner/intermediate)
Abi will use songs and demonstrate the basic skills needed to get the characteristic sounds. She will focus on how to master a steady groove using alternating and monotonic thumb techniques to play a bass line and how to add rhythmic patterns, licks and melodies on the treble strings.

HOMESICK MAC, Country Blues and Bottleneck Slide Guitar
Mac has been playing music since 1975 and his main influences were Doc Watson and early country blues players including Brownie McGhee.
Beginner/Intermediate Country Blues Guitar
Mac will be teaching a beginner class this year to help students with developing the technique of playing an alternating bass line with your thumb and playing melody with your fingers at the same time. Simple and easy to play songs will be used to facilitate learning.
Bottleneck Slide Guitar (intermediate/advanced) Building upon solid basic abilities, advanced slide playing classes will include tips on dynamics, advanced damping techniques, developing melodies and solo licks. The class will also focus on developing rhythmic patterns while playing slide.

ADAM FRANKLIN, Bottleneck Slide Guitar and Mandolin
Adam Franklin is a superb exponent of blues and ragtime from a 'golden age' of American music. In addition to guitar, Adam is a great blues mandolin player and will teach a mandolin class this year. Students are encouraged to bring their mandolin along.
Bottleneck Slide Guitar (beginner/intermediate)
In this class, Adam will look at all aspects of slide guitar, from the basic techniques and tunings to classic rhythms and licks of the innovators. The class will study the styles of Tampa Red, Lum Guffin, Fred McDowell and will look at playing a classic blues standard in the 'slide' style.
Mandolin (all levels)
Focusing on the blue side of mandolin, students will learn classic string and jug band tunes as well as looking at playing in the 'blues jam' friendly keys of E and A.

MICHAEL ROACH, Country Blues Guitar and Vocals
Michael is the Founder/Director of Blues Week. With 7 albums to his credit, he is firmly established in traditional blues music circles.
Beginner / Intermediate Country Blues Guitar
Michael has taught many students over the years the skills they need to get the most out of being at Blues Week. He will be available for one to one sessions for anyone who needs support. He will help students to develop at their own pace using simple practice techniques.
Blues Vocals (all levels)
Using a selection of songs as tools, students will be encouraged to sing and find their true voice by covering the importance of breathing and phrasing. Be prepared to sing!


LIGHTNIN' WELLS, Country Blues and Bottleneck Slide Guitar
Lightnin' Wells is an American Piedmont blues multi-instrumentalist and singer based in North Carolina.
Piedmont Blues Guitar (intermediate/advanced)
This class will explore songs and guitar styles of east coast blues from the 1920s/1930s. Songs will be in standard tuning from artists such as Blind Boy Fuller, Curley Weaver, Blind Blake and William Moore.
Bottleneck Slide Guitar (intermediate/advanced)
The slide class will look at blues techniques as recorded by Blind Willie Johnson, Bukka White and Robert Johnson. The songs taught will be in open G or D tunings.

EDDIE MARTIN, Bottleneck Slide Guitar  
With 16 acclaimed album/DVD releases, Eddie has been called "The Ambassador of British Blues" and in 2018, he won 'Best Solo/Acoustic Artist' in the European Blues Awards.
Bottleneck Slide Guitar (beginner/intermediate)
Eddie will run through string choice, set-up and choice of slide/picks to optimise first slide-playing 'hardware'. Thumb/finger picking separation will be introduced and core slide techniques will be taught in the context of learning classic slide tunes such as "You Gotta Move', 'Come On In My Kitchen', 'Amazing Grace' and 'Dark Was The Night'.

Bottleneck Slide Guitar (intermediate/advanced)
Eddie's slide guitar class will look in detail at the styles of such as Blind Willie Johnson, Son House, Robert Johnson and Furry Lewis. He will work through recordings and study videos to analyze the signature elements of their right and left hand techniques, picking patterns, damping styles, and percussive effects.

LITTLE GEORGE SUEREF, Harmonica 
Little George Suref is an acclaimed blues artist, vocalist, harmonica & guitar player with a distinctive old school ruff & tumble down home blues - "like the music you would find on the 'Chess' & 'Excello' record labels of the 50's" - Mojo magazine.
Blues Harmonica (beginner/intermediate)
George will identify the needs of the students and build on what they have already. He will help students to get clean notes, play riffs and assist with bending notes.
Blues Harmonica (intermediate/advanced)
In this class, George will focus on the electric side of harmonica playing. He will be using an amp to help students get the sound of harmonica heroes such as Sonny Boy Williamson and Little Walter among others. The class will cover how to present clean sounds from all of the notes on the harmonica. He will help students to bend notes and learn harmonica parts (including rhythm and lead) to well-known blues songs. Students are encouraged to bring your own mic and a small amp.
GRANT DERMODY, Harmonica
Grant Dermody is a harmonica player, singer and songwriter active in Acoustic and Chicago Style Blues, Old Time, and other forms of American Roots Music.

Blues Harmonica (beginner/intermediate)
Grant's beginner class will focus on chord and single note tone production, rhythmic playing, tongue blocking, vamping and bending notes. The class will start at the beginning and progress at a comfortably challenging pace.
Blues Harmonica (intermediate/ advanced)
One of Grant's classes will focus on improvising and tone production. He will spend a great deal of time working on being able to hear and hold down a groove as a solo performer. His other class will look at developing repertoire that may not arise from the harmonica or blues world, and finding ways to incorporate the voice and harmonica to best serve the song.

WILL WILDE, Harmonica
Will Wilde picked up his first harmonica at the age of 16 and played it until his lips bled. His live show has been described as "A masterclass of blues harp playing, bar none." (Blues in the North West).
Blues Harmonica (beginner/intermediate)
The beginner class will focus on improving your core blues harmonica skills; tone, vibrato, bending, hand technique, tongue blocking, blues scale, and improvisation. The class will focus on classic 2nd-position blues, breaking down examples by the likes of Sonny Boy Williamson, Little Walter, Big Walter Horton and James Cotton.
Blues Harmonica (intermediate/ advanced)
This class will explore licks, 1st position blues playing (which will include blow-bends in the upper register), as well as the more common 2nd position and some 3rd position playing for minor-key blues. The class will break down examples by the likes of Little Walter and Sonny Boy Williamson with a focus on improvising and helping students to build their own solos.

Registration Fees 2023
On Campus: includes all classes, activities, accommodation with breakfast included £650
Advance registration is required and is on a first come first served basis. A deposit of £250 will reserve your place. Once you have paid your deposit, we have an exclusive 'Online Access' page on our website and you will be given the password to view the teaching resources we have on offer. The videos cover all of the classes from different teachers and all levels of ability. Also, we will be offering 'free' Zoom lessons to everyone who paid to attend this year. All lessons will be recorded and posted to the 'Online Access' page for future reference. The balance of payment is due by 1st July 2023. Any cancellations will be refunded (minus a £100 administration fee) if you withdraw before 1st July 2023. After the 1st of July, all payments are non-refundable. Please include your registration from along with your payment in British Sterling. We also accept PayPal and bank transfers.
Off Campus: includes all classes and activities £400
Per Day Rate: includes all classes and activities £130
Please make payment to: Euroblues Promotions Limited, P.O. Box 1333 Cheltenham GL50 9AS
For bank transfers, our sort code is 20-20-15 and our account number is 60473928. We also accept PayPal and the address for payment is info@euroblues.co.uk. Space is limited and it is advisable to book early to avoid disappointment.
We will send confirmation of your deposit upon receipt of payment. On 1st July, we will be posting to all participants the complete details of your stay during the week. Fees include all classes and activities, accommodation, breakfast and administration. Lunch and dinner is not included. Accommodation consists of a private single en-suite room.
Our John Jackson Youth Scholarship Fund will provide subsidised places for young people between the ages of 14 to 21. Students between the ages of 14 and 17 are eligible for a £250 subsidy. Students between the ages of 18 and 21 who are not in full time employment are eligible for a £200 subsidy.
A parent or responsible adult must accompany all students 16 and under. If you know of someone who qualifies or have a family member that you would like to bring along, please contact us for immediate consideration. This scholarship is only available to first-time participants.