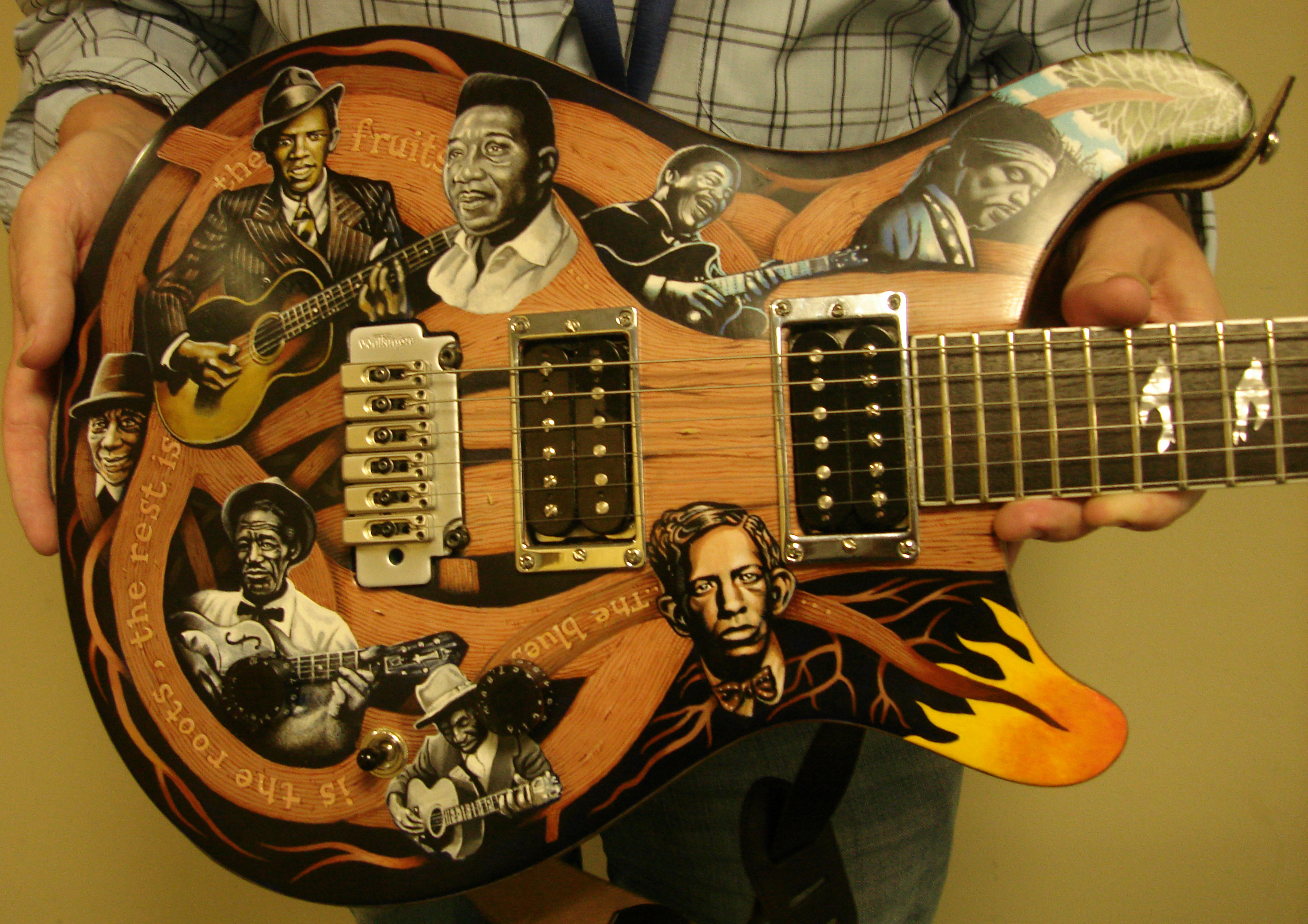 WORKSHOPS - all our events are acoustic and for all levels of ability
_________________________
We are delighted to announce that Euroblues Promotions Limited and The Beacon, Wantage, South Oxfordshire OX12 9BX will present an 'Acoustic Blues Weekend' of workshops, jams and performance.  Mark your calendar for Friday 1st to Sunday 3rd October 2021.
The programme will offer classes starting on Friday from 1pm to 5pm followed by a staff concert at 8pm.  On Saturday, classes will run from 10am to 5pm followed by an evening jam session from 8pm to midnight for 'participants only'.  On Sunday, classes will run from 10am to 3pm.  The classes will cater for all levels of ability and we recommend you bring along a portable recorder. The tutors for the 'Acoustic Blues Weekend' are Sonny Black (country blues guitar), Michael Roach (country blues guitar), Adam Franklin (bottleneck slide guitar) and Will Wilde (harmonica).
Sonny Black first picked up the acoustic guitar in the late 1960's after hearing 'San Francisco Bay Blues' by the great Jesse Fuller.  He now performs a blend of roots music that includes fingerstyle blues, ragtime, old time country and original compositions.  For the weekend, Sonny will look at Sam McGee's 'Amos Johnson Rag' and a finger style version of the classic 'St Louis Blues'.  He will also introduce a bit of slide guitar using the song 'Living with the Blues'.  Whilst aimed at intermediate guitarists, Sonny will help all players to take your playing to the next level.  He will give tips on arrangements, improvisation and expand on chord ideas.
Michael Roach spent several years learning directly from such well-known figures as John Jackson, John Cephas and Jerry Ricks.  With 7 albums to his credit and an instructional DVD (An Introduction to Country Blues Guitar), Michael is firmly established in traditional blues music circles. At the Beacon, Michael will be teaching a class for beginners. He will be demonstrating how you can alternate the bass with your thumb and use your index finger to play melody lines. He will discuss and explain how to play a 12 bar blues chord progression, how you can play rhythm and grooves while singing, give examples of simple finger picking patterns and everything you need to get started on playing country blues guitar.
Adam Franklin is a superb exponent of blues and ragtime from a 'golden age' of American music.  With a voice that is both powerful and soulful, his performances are intense, energetic and highly entertaining.  A lifetime of intensive listening and 3 decades of playing underlie his easy rhythmic excellence.  Over the weekend, Adam will look at the skills needed to play the classic bottleneck slide guitar style.  He will focus on songs by Tampa Red, Robert Johnson, Blind Willie Johnson and Barbecue Bob.  After covering the bones of the songs, the class will look at using those licks as improvisation or in a 'jam' situation.  Sessions will also be put aside to look at how open tuning were used to achieve great sounding rhythm and melody by artists such as Memphis Minnie, Bo Carter, Mississippi John Hurt and Charley Patton to name a few.
Will Wilde picked up his first harmonica at the age of 16 and played it until his lips bled. With knowledge and respect for the original masters of the instrument, his live show has been described as "a masterclass of blues harp playing, bar none." (Blues in the North West).  Will has won over audiences from all around the world and has thousands of fans who subscribe to his YouTube channel.  For the weekend, Will's class will be studying and learning to imitate the contrasting styles of Sonny Terry, Sonny Boy Williamson II and Little Walter.  Using classic songs as case studies, he will break down each of their styles and teach you their solos as well as going in to the different techniques they used (vibrato, tone, hand wah, bending, tongue blocking etc.) to help you discover what makes each of them sound the way they do.
Registration Fee
The weekend fee is £175.  A single day rate is £60 for Friday and includes the evening concert.  Saturday is £80 and includes the private jam session for 'participants only'.  The rate for Sunday is £50.  Advance booking is required.  To reserve a place, you must book directly with Euroblues Promotions.  We accept cheques.  However, we prefer that you do an online transfer.  Please make payment to: Euroblues Promotions Limited, PO Box 1333 Cheltenham GL50 9AS United Kingdom.  Our sort code is 20-20-15 and our account number is 60473928.  We also accept PayPal and the address for payment is info@euroblues.co.uk.
Regarding accommodation, we will be staying at The Bear Hotel.  It is a two minute walk from The Beacon. We negotiated a special room rate of £50 per night (includes breakfast). Their telephone number is 01235 766 366 and when you speak to reception, let them know that you are part of the "Blues Group at The Beacon".
_________________________
Blues Week 2022. Our 20th year!
Sunday 31st July to Friday 5th August 2022
Hartpury College
Gloucester GL19 3BE
United Kingdom
*Please note that Blues Week 2022 will include Friday night accommodation.  Everyone will check out of their rooms at 10 o'clock Saturday morning.
_________________________

Back to the top